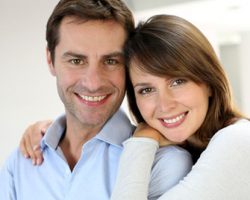 West Liberty, IA or Muscatine, IA community members need a great dentist who can handle their dental prevention and restoration needs. Gentle Family Dentists works with patients of all ages to give them a better, healthier smile. We have two convenient locations in the community and even offer FREE laughing gas for our fearful patients.
Prevention is always our first concern. After all, preventing dental problems is always cheaper than restoring your mouth. It's estimated that with every dollar you spend on prevention, you save eight dollars on restorative care. So today we want to list a few dental habits you can pick up to prevent future dental problems. Here are 3 dental hacks you need to start using at home.
Use Apps/ Reminders
A study published by the American Dental Association found that about 7 out of 10 Americans brush twice a day while only 4 out of 10 Americans floss daily.  We'd like to see that number on the rise. It's recommended that you brush twice a day for TWO MINUTES at a time and then floss every day. Of course, people can sometimes forget to floss or brush — or fall into a rhythm of not brushing or flossing.
There are free dental apps that send reminders for you to brush and floss. The apps will even guide you through your oral routine, making sure you brush every corner of your smile. You can also set regular reminders on your phone to set aside time for oral hygiene.
Switch to healthy snacks throughout the day
The heavy lifting of your oral health routine is your hygiene time, brushing and flossing, but it's also important to watch what you eat. Foods high in sugar or acidic foods can damage the enamel of your teeth and increase the risk of tooth decay. Likewise, there are foods that can be great for your health. Crunchy fruits and vegetables are important to have in your diet for nutritional reasons and oral health reasons. These crunchy fruits and veggies produce saliva in the mouth to help flush out food debris and keep harmful acids from attacking the teeth. You can also increase saliva levels in your mouth by drinking more water throughout the day.
Clean Your Tongue
Like your teeth, the tongue can attract a great deal of bacteria on any given day. In fact, there is some bacteria that only exists on the tongue in addition to the thousands of bacteria that live inside the mouth. You can clean the tongue by rinsing it with water, brushing, or using a tongue scraper. Cleaning your tongue will reduce your risk of problems like dental decay and bad breath.
Visit Our Office Today
These are just three dental hacks that you can do to keep your smile looking and feeling great. Adding these dental hacks into your lifestyle can greatly improve your oral health. But don't forget to maintain your dental cleanings. We dentists recommend that you visit the dentist once every six months for cleanings and exams. Gentle Family Dentists also offers elite restorative and cosmetic dentistry to give you a healthier, brighter smile.
Give us a call today at 563-288-2612 to book your next (or first) dental appointment.