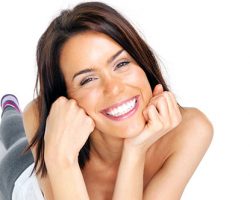 Part of having great, healthy teeth means following the best dental advice and having access to elite services. When you visit our West Liberty IA and Muscatine IA dental offices, we'll show you ways to improve oral health practices.
At Gentle Family Dentists, we're focused on family dentistry and finding the most efficient and comfortable ways to give you a better, healthy smile. You can start treatment with our office today by calling us at 563-288-2612. Today we want to show you five things you can do to improve your oral health today.
1. Brush longer and not harder
We dentists often see patients who are good about brushing their teeth twice a day, but they still have plaque and tartar buildup. Those patients might not be brushing long enough. There is a misconception that scrubbing the teeth extremely hard is going to get the teeth clean. The reality is that the harmful material you're brushing to remove, is a soft substance and can be easily removed. You just need to reached every corner of the mouth. The American Dental Association recommends that you brush your teeth twice a day for two minutes at a time. If you need a little help with the timing, try setting a timer or downloading a free dental app that helps guide you through brushing.
2. Never skip out on floss
Yes, it's the floss reminder! A recent study from the American Dental Association found that only about 4 out 10 Americans regularly floss their teeth. That's not even a majority. Flossing is a great way to clean areas of the mouth that cannot be reached with brushing. These are areas between the teeth or below the gum line. Flossing reduces the risk of gum disease, the leading cause of missing teeth, and tooth decay.
3. Rinse your mouth with water
Dangerous plaque can form within just eight hours. If not removed, this plaque can harden to create tartar or even tooth decay. In addition to brushing and flossing, you can keep your teeth clean throughout the day by rinsing your mouth with water or consuming healthy snacks that increase saliva levels in the mouth an flush away food debris. These are snacks like apples, celery, and sugar-free gum.
4. Stop smoking or using tobacco
Smoking or using tobacco increases the risk of problems like gum disease or even oral cancer. It's widely known that tobacco use, especially smoking, increases the risk of lung cancer, but some people aren't aware that tobacco use also increases the risk for many types of oral cancers. Men are twice as likely as women to have oral cancers. Oral cancer is very treatable in its early stages, but it's harden to overcome if you catch the cancer late. 
5. Always use fluoride-based toothpaste
Fluoride is a natural substance that has been proven to reduce the risk of cavities and gum disease. Gentle Family Dentists uses fluoride varnishes during dental cleanings and exams. Most public drinking sources also have fluoride, but it's still important to have fluoride in your toothpaste. There are so many options for toothpaste, whether it's the flavor or the whitening addition. The next you're shopping for toothpaste, make sure you choose the option that includes fluoride.
These are just a few ways to get a better, healthier smile. Gentle Family Dentists is here to help you. So give us a call today at 563-288-2612.