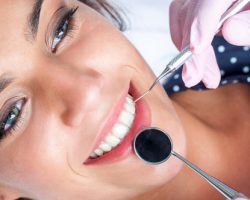 Are you looking for the most affordable dentistry in West Liberty IA? Everyone appreciates a good deal. Our West Liberty IA dental office, Gentle Family Dentists has a number of ways to help you save money on your dental treatments.
Not only can our office provide great deals, but we're a full-service dental office that treats dental issues big and small. So, you don't have to travel around from dental office to dental office for the best deal OR the treatment you need. Give us a call today at 563-288-2612 to schedule a dental appointment. During that consultation, we'll show you your smile needs, provide a treatment timeline, and show you the cost of treatment.
Today we want to share a few ways Gentle Family Dentists can help you.
Find Affordable Dental Care Without Dental Insurance
You might think the only way to get great dental care is with dental insurance. That's not exactly true. While about two-thirds of the Americans have access to dental insurance, it's not the only way to get great dental care. Dental insurance reimbursements haven't increased much over the years, meaning if you have dental insurance, you still might need to foot much of your dental bill. This is especially true for patients who need extensive restorations.
We're offering in-house membership plans for children, adults, and even those with periodontal disease. These memberships offer free dental cleanings and exams and even discounts on treatments. Each of our memberships has a cost-effective monthly fee, and you'll never have to worry about dental insurance reimbursements or pre-qualifications. And best of all, you'll get to choose your dental professionals!
Take Advantage of Special Promotions
We understand that everyone has different dental needs. Some of us need extensive dental work, while others simply want to keep our smiles healthy and bright. We have great deals and promotions for new patients, including:
FREE teeth whitening with a comprehensive exams and digital X-rays

$50 discount on new patients exams

$500 discount on orthodontic services (We're offering traditional braces,

Invisalign,

and ClearCorrect.)
Finance Your Dental Care
Sometimes we need extensive dental care to get the mouth functional. Whether it's replacing missing teeth with dental implants or using crowns and bridges to restore teeth, we have solutions for you in our office.  And we can help you finance your dental care if the cost is more than you can afford out of pocket. We have partnered with Compassionate Finance to get patients the care they need. When you sign up for Compassionate FInance, you can break your bills into an affordable monthly payments.
There are a number of ways for you to get the care you need. Our West Liberty IA and Muscatine IA dental offices offering affordable dentistry for patients of all ages. Start your treatments with us today, 563-288-2612!