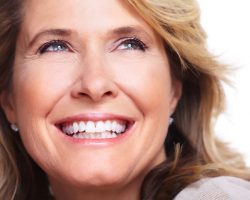 Patients often see their oral health as isolated from the rest of their bodies. That's not the case. Oral health can directly affect your overall health. Not only can bad teeth affect diet, but the dentists in West Liberty, IA and Muscatine, IA are finding more evidence that oral infections are linked to heart disease — our nation's No. 1 killer.
A dentist's main goal is to help you keep the teeth you have. That's why we take a thorough look at your mouth during your cleanings and exams. But we're also looking any signs of infection so we can remove those infections from your body.
The Major Problem With Gum Disease
Gum disease is the number one cause of tooth loss in adults. There are millions of people across the country with missing teeth — or even without any of their natural teeth. Gentle Family Dentists has state-of-the-art preventive and general dental techniques because we want to protect you for larger problems in the future.
The connection between gum disease and heart disease comes from the bacteria and plague found in both illnesses. Additionally, patients with gum disease are statistically more likely to suffer from heart disease. The theory is that the bacteria from gum disease can enter the bloodstream and enter into the blood vessels in the heart. That is the theory, and it's important to note that there is no known cause-and-effect relationship between gum disease and heart disease.
The First Signs of Gum Disease
Gum disease, also known as periodontal disease, is a problem that can start with sore or bleeding gums. Patients typically notice the bleeding while they are brushing or flossing. This problem happens in stages, with gingivitis being the first stage. Gingivitis is curable with medical intervention, BUT the later stages of gum disease are not curable. You'll need care for the rest of your life. Periodontitis is the most advanced form of gum disease. It can quickly spread throughout the mouth and cause the teeth and gums to pull apart. It can even cause the bone around the tooth to erode, which is why this infection claims so many teeth.   
If you have advanced forms of gum disease, you'll need a great dentists to help you.  We recommend that patients with periodontitis visit the dentist once every three to four months for regular exams and necessary cleanings.
Treating Your Gum Infections
Like an infection, it's best to resolve gum disease early before it balloons into a larger, more invasive problem. We have two ways to restore your gums, an at-home treatment called Perio Protect™ and soft-tissue laser therapy for infection removal.
The Perio Protect is an infection-control system that uses custom trays and medicine. You'll simple wear the trays for about 10 to 15 minutes every day to reduce the risk of future infections.
The next treatment we offer is laser therapy. If you have struggled with gum disease, you might be aware that the gum infection is often removed by traditional surgery. Traditional surgery requires the use of scalpels and stitches. That can be very uncomfortable and extremely invasive, and the recovery time is lengthy. With the use of lasers, we're not using scalpels or stitches. The laser rather evaporates the infection and helps the teeth and gums rejoin. The laser treatment is faster, less invasive, and can help save your teeth.
Keep Your Teeth and Your Body Health
Healthy gums will improve the health of your body. Gum disease can cause a number of issues for your mouth and body, so don't let it! Give us a call today at 563-288-2612 to schedule your visit.