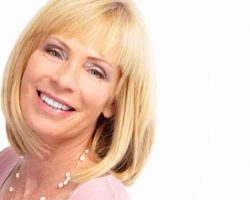 Losing a tooth or multiple teeth is bad enough as it is, but don't let it hurt your dietary health as well – for dental implants that will help you regain the majority of your natural chewing power, call Gentle Family Dentists at 563-288-2612 today.
We offer a wide range of restorative dentistry services and so much more at both our Muscatine, IA dentist office and our West Liberty, IA dentist office. You'll enjoy the same quality care and diverse options no matter which of our two locations you visit!
Below, we'll discuss how implants are among the best options for replacing teeth for the sake of your chewing ability, but they also provide many other perks because they:
Feel extremely convincing

Help you to prevent jawbone deterioration so you won't have to worry about a "sunken in" look

Look very real to the point that no one will be able to tell your replacement teeth apart from your natural teeth
Along with offering two locations, we also accept a large variety of payment options for your convenience. If you want a service but are concerned about cost, just let us know and we'll chat with you about your options for paying.
Get Dental Implants & Chomp Into The Foods You Love
When placed into your jawbone, a dental implant will replace your tooth roots and literally fuse to your bone through a process called osseointegration. That's a major factor in their strength and the chewing power they can provide. Some patients even regain up to 90 percent of their natural chewing strength with implants.
Along with juicy steak, smoky ribs, and buttery corn on the cob, there are many foods that are somewhat difficult to chew that are very healthy for you. If you decide to give your replacement teeth a sturdy foundation with implants though, you'll be able to snack on raw vegetables, crunchy nuts, and many other healthy foods. By eating a balanced diet, you may even be able to improve your overall health!
We offer a variety of options for restoring implants, whether you need to replace individual teeth or you want a full-mouth reconstruction. Here are just a few of the implants options we offer:
Regardless of the treatment you receive from us, we will do all we can to make your experience with us a pleasant one. We offer a variety of amenities to help put you at ease, including warm blankets, soft towels, and TVs so you can get some entertainment to distract you while we work on making your smile whole again.
If all that doesn't help relieve your dental anxiety, we can also provide relaxation dentistry options, such as:
Free gas sedation, more commonly known as "laughing gas"

Oral conscious relaxation
Whatever it takes, we'll make sure you're comfortable!
Get your strong bite back so you can eat the foods you love and stay healthy thanks to dental implants from Gentle Family Dentists. Call 563-288-2612 or use our handy online form to book a visit with us today.