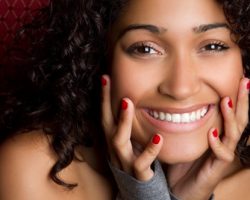 You want to change your crooked smile. But … you don't want to wear metal wires and brackets on your teeth for two years (or possibly longer).
You could accomplish those things in less time with the help of our team at Gentle Family Dentists. If you visit our offices in West Liberty, IA, North Liberty, IA, or Muscatine, IA, you can find out if FastBraces® will work for you.
What are FastBraces? Are they really faster braces? The short answer is yes to both of those questions, which we will explain below.
But if you are already interested in learning whether FastBraces are right for you, call 563-288-2612 or contact us online to schedule a consultation with either of our dentists.
What FastBraces Are
You can think of FastBraces as a big advancement in orthodontic technology.
No matter how old you are, if you are reading, then you have seen how technology continues to change the world.
If you are of a certain age, you may remember your family getting its first black-and-white television that may have gotten four channels if you were lucky. Today, you have the option of color televisions with hundreds of channels to choose between. For that matter, you may not watch "television" at all since you can watch so much on your smartphone instead.
Cars and trucks have become more comfortable, more efficient, and have more features than ever. If you watch the news at all, then you are aware that self-driving cars are being developed by multiple companies as well.
So how do FastBraces compare to these other technological advancements? Well, FastBraces can accomplish the same things as traditional braces. The difference is that when traditional braces might need two years or more to change your smile, FastBraces can complete your treatment in a matter of months for many patients.
Individual results will vary depending on the specific problems that are being fixed with your smile. Regardless, knowing that you can do the same work in a fraction of the time is a step forward.
How FastBraces Work
FastBraces use brackets and wires like regular braces. The advancement is a result of the type of brackets and wires used in this particular orthodontic treatment.
With traditional braces, square or rectangular brackets are bonded to your teeth. Then an archwire is used to connect the brackets together. Together, the brackets and wires (sometimes with an assist from small rubber bands) gradually push and pull your teeth into straighter positions.
This is done in stages. First, the crowns of your teeth are realigned, which takes about a year, give or take a few months. Then, the roots of your teeth are adjusted, which takes another year or so.
The end result is a nice, straight smile.
FastBraces have improved this process with the innovation of a unique triangular bracket and a high-tech wire. This combination allows us to move the crowns and the roots of your teeth at the same time rather than in separate stages.
For many patients, FastBraces allow them to do something they have wanted to do but have been hesitant to try because they thought it would take too long to straighten their smiles.
What FastBraces Can Do
Now you understand how FastBraces work and why FastBraces work faster than traditional braces. So, what problems can FastBraces fix?
The answer is anything traditional braces can do.
If you have gaps between your teeth that you want to close, FastBraces can handle that.
If you have teeth that appear to be crowded together, FastBraces can take care of that, too.
If you have teeth that are crooked or overlap one another, FastBraces can fix them.
And if you have a bite issue — overbite, underbite, crossbite, or open bite — FastBraces can get your bite in line.
Why Come To Us For Orthodontic Care
FastBraces are just one example of how we are using technology to make your experience easier as a patient.
At Gentle Family Dentists, we can make digital impressions. You don't have to bite down (and possibly gag) on a tray filled with bad tasting goop so a dentist can make impressions of your teeth.
And during your visit, we can discuss our other cosmetic dentistry services as well, including Invisalign® and ClearCorrect, so you can choose the treatment that is right for you.
If you are ready to see a change in your smile, call 563-288-2612 or contact us online today!