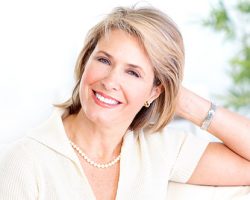 Maybe you just chipped your tooth recently. Or perhaps you've had a damaged tooth for many months or even longer. Regardless of when your tooth became damaged, you should do something about it as soon as possible and call Gentle Family Dentists at 563-288-2612 to book a consultation for a same-day dental crown.
We have two dentist offices, one in West Liberty, IA and one in Muscatine, IA. Both are conveniently located near the local high schools in their respective communities. Regardless of which one you visit, you'll be treated to high quality, compassionate care from a friendly team. We offer many restorative dentistry options and so much more!
We even offer help in dental emergencies. If you have injured one or multiple teeth, call us as soon as possible at 563-288-2612. We'll do our best to get you a same-day appointment.
Repairing damaged teeth quickly is very important. You may think that the issue is mostly a cosmetic one depending on the severity of the damage, but even minor chips can lead to some serious problems. With our help, you'll be able to:
Smile wide and proud, knowing your smile looks great
Prevent certain types of damage, like cracks, from getting worse
Protect your tooth so it no longer causes you any dental pain
Chew normally and comfortably again without having to think about what parts of your mouth you are using and avoiding
We accept a few different payment options for your convenience, including third-party financing from Compassionate Finance and CareCredit. If you'd like to make us your go-to general dentist, you can also join our in-house membership plan. If you do, you'll get $100 off on a dental cleaning and exam and save ten percent on any other service you're interested in.
To make your busy week a little easier, we stay late until 6:00 p.m. at our West Liberty, IA location. You can swing by after work and get the care you need without having to use a personal day or screw up your work schedule.
Get Your Tooth Fixed Quickly With A Same-Day Dental Crown
Dental crowns completely cap a tooth to repair it and prevent the problem from getting worse. They can be used for a variety of issues, including:
Chips
Cracks
Worn-down teeth
Stubborn stains or discoloration
To strengthen a tooth that has been weakened by repeated dental treatments
To fortify a tooth that has undergone a root canal
To restore a dental implant and replace a missing tooth
For cosmetic purposes
It used to be the case that if you needed a dental crown, you'd have to go in for multiple visits to get your tooth prepared and the crown placed. And that doesn't even take into account the gap between those visits when you'd have to wear a potentially uncomfortable temporary crown while your long-term one was made.
Oh, and if the dental crown didn't fit properly when it arrived, you'd have to take impressions again, send off the information to a special fabricator, and wait for them to ship the finished product back.
So you won't have to deal with this tedious process, we have invested in some state-of-the-art dental technology at Gentle Family Dentists. If you need a dental crown, perhaps the most exciting machine we use is our in-house CEREC milling machine. Thanks to this device, we can create your crown in a single appointment.
We also use top-notch tools to plan your procedures. For example, we can get very detailed images of your teeth, jaw, and the rest of your mouth using our digital X-ray machines and our 3D cone beam scanner. You can also get a clear view of precisely what we're talking about thanks to the close-up view provided by our intraoral cameras!
To make your visits more patient-centered and comfortable, we offer a few comfort options, including:
Free nitrous oxide (also known as "laughing gas")
An oral conscious relaxation treatment
Cozy blankets
Soft neck pillows
Ceiling-mounted TVs and headphones to entertain and distract you
Warm towels to comfortably wash up after your treatment
If you are uncomfortable and would like some help relieving your dental anxiety, just let us know how we can be of assistance!
Don't wait any longer than you already have to get your tooth repaired. For a same-day dental crown from Gentle Family Dentists, call 563-288-2612. You can also use our handy online form to schedule or submit a question 24 hours a day, seven days a week.