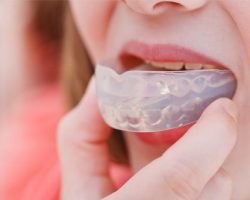 Help build your excitement and that of your children for spring sports by getting ready for them and investing in custom athletic mouthguards from Gentle Family Dentists by calling 563-288-2612.
For your convenience, we offer a broad assortment of general dentistry services and so much more at both our Muscatine, IA dentist office and our West Liberty, IA dentist office. No matter which one you go to, we aim to provide as comprehensive dental service as possible under one roof.
We offer many treatment options that you'd expect from a dentist and some that you might not think a dentist would. That's just part of our goal to be your one-stop shop!
We accept an array of payment options and even offer our own in-house membership plan to cover all of your routine dentistry needs, including dental cleanings and exams, without you having to deal with frustrating insurance policies.
We also open at 8:00 a.m. most days our offices are doing business instead of 9:00 a.m. as many other dentists do. Our location in West Liberty, IA also stays late until 6:00 p.m. on Wednesday evenings.
Avoid A Sports Injury This Spring With An Athletic Mouthguard
Spring sports athletes have either already started training or will begin training very soon. It's an exciting time of the year. The weather is warming up and the grass is getting greener and we're all ready to get out there and get active after a harsh winter. But don't let your excitement distract you to the point that you are unprepared and leave your smile vulnerable to injury.
There are some sports that it is obvious you'd want to wear a mouthguard during, like football and boxing, but if there's a risk of dental injury, you should probably take the proper measures to protect your teeth and mouth. Here are some of the most popular spring sports that we would recommend using an athletic mouthguard during:
Certain track and field events, like pole vaulting

Soccer

Baseball and softball

Tennis

Volleyball

Lacrosse
But this list is in no way exhaustive. For example, a lot of people also decide to take their first ride mountain biking or trail riding when the weather is nice. Others may participate in extreme sports like skateboarding. These activities and many others would be made much safer for your pearly whites if you wore a mouthguard during them.
Basically, if your favorite physical activity involves any of the following, you should at least consider getting a mouthguard for your smile:
Catching or throwing objects

Frequent jumping

Frequently changing direction
Don't trust your smile with a boil-and-bite mouthguard that you'll easily wear a hole in. Putting up the money for a custom mouthguard now could save you money in the long run and help you avoid a dental emergency.
Keep your gorgeous grin looking and working great by preventing dental injuries of all sorts with a custom athletic mouthguard from Gentle Family Dentists. Call 563-288-2612 or fill out our online form to book a visit with us.