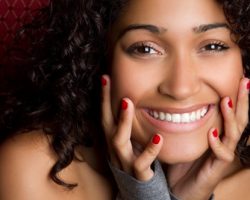 Because every patient has unique oral health issues, we do our best to provide multiple care options whenever possible. To find out if your smile foundation could benefit from a gum disease treatment and what your procedure options are, call Gentle Family Dentists at 563-288-2612 today to book a personal consultation with us.
To make visiting us a little simpler, we have two dental office locations in southeastern Iowa, one in Muscatine, IA and one in West Liberty, IA. No matter which one you visit, you'll enjoy friendly, gentle, and professional treatments. We serve patients of all ages with a wide variety of services so you won't have to bounce between various specialists to get all your dental needs met.
We bring great passion and professionalism to the table no matter the treatment, but gum disease, also known as periodontal disease, is especially significant to one of our dentists, Dr. Carol Moreno. Shortly after she was diagnosed with periodontal disease when she was 20 years old, Dr. Carol decided to devote herself to oral health and become the caring and knowledgeable dentist she is today.
To make your experience with us less financially stressful, we accept a large variety of payment options. We even offer various options for patients without dental insurance by taking third-party financing through CareCredit and Compassionate Finance. We also offer our own in-house membership club that provides discounts on all of our services if you decide to enroll.
Four days a week, one or both of our dental offices are open for business starting at 8:00 a.m. instead of 9:00 a.m., as some dentists are. Our West Liberty location is also open late until 6:00 p.m. on Wednesdays.
Everyone on our team as well as both of our dentists have extensive experience in providing excellent dental care. Dr. Carol has been in the dental field for over three decades and her son, Dr. Roberto Moreno, has earned a fellowship with the Academy of General Dentistry due to his skills and performance.
Let Us Improve Your Oral Health With Gum Disease Treatment
Periodontal disease arises when bad bacteria gets between your tooth roots and your gumline and forms plaque and tartar. This irritates your gums, causes infection, and loosens the connection between your roots and your gumline. If caught early enough, this condition is easily reversed before any major issues occur. We offer three options for treating periodontal troubles.
The typical general dentistry procedure for restoring the health of your gums uses two special deep cleaning processes called scaling and root planing. First, we'll use special instruments to clean away the bad bacteria from your tooth roots (scaling). Then, we'll smooth out the surface of your tooth roots so bacteria has nowhere to hide and collect (root planing).
Depending on your particular case, you can also address periodontal problems using an at-home treatment called Perio Protect®. This option uses customized trays that are filled with medication for your gums. Each day, you'll wear your comfortable trays for about ten to fifteen minutes to fight infection. We'll discuss how long your treatment will last with you.
But in the majority of cases, if it is a viable option, we can use a state-of-the-art dental laser that is specifically designed for treating the soft-tissue of your gums. Using this method, we will:
Vaporize infected gum tissue to get rid of the problem and prevent it from spreading

Quickly improve the health of your gums with little to no bleeding

Ensure a faster healing process than would be possible with other methods
If you have excessive gum tissue and want to do something about your "gummy smile," we can also use our patient-friendly laser for gum reshaping.
Should there be a chance of discomfort during a given treatment, we will numb the area we'll be working on with a safe gel before we begin. We also provide various comfort options at our spa-like offices, including:
Warm blankets and cozy neck pillows

Ceiling-mounted TVs and headphones to entertain you

Warm towels so you can freshen up before you leave our office

Relaxation dentistry options, including free nitrous oxide, more commonly known as "laughing gas"
If you think the health of your smile foundation is deteriorating, take action by calling Gentle Family Dentists at 563-288-2612 to book a gum disease treatment today. You can also visit either of our offices during our normal business hours or fill out our handy online form at any time to schedule or ask one of our friendly team members questions.