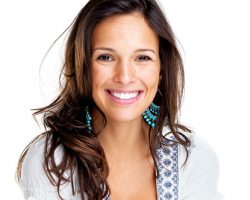 A dental crown is one of the more common dental restorations used in dentistry. Dental crowns are used to protect a tooth and make it functional for years to come. Our West Liberty and Muscatine IA dental offices are providing fast dental crowns, so you'll never have to wait weeks or make multiple visits to the office for your restoration.
Gentle Family Dentists is using a technology called CEREC to give you crowns in a single day.  We can use crowns for a number of reasons, including:
Restoring teeth with dental decay that cannot be helped with filling

Restoring dental implants to replace single missing teeth

Covering up smile flaws like chips, cracks, and heavy stains on teeth

Reconstructing the mouth to reduce jaw pains
Today we want to describe what it takes to produce your same-day crown. This process only takes about 90 minutes.
Elite Digital Impressions
If you need a crown, we'll begin the treatment by preparing the tooth and then taking a digital impression of the area. The digital impressions allow us to find the perfect fit for the new crown. Most dental offices are still using goopy impression material to take an impression. The problem is that most patients find the goopy material intolerable, and there is the possibility of human error.
Instead of using goopy materials, we simply scan the tooth and send the impression to a computer so we can fabricate a new crown.
You'll Never Have to Wear A Temporary Crown
A common step of crown placement is placing a temporary crown. The purpose of the temporary crown is to serve as a placeholder for the long-term restoration. There are a few problems with temporary crowns. Patients sometimes have to wear the temporary crowns for a few weeks. These temporary crowns are also made from acrylic material and are not as lifelike as more permanent restorations. Temporary crowns can also dislodge at a higher rate than your permanent crowns. Nobody wants to deal with that.
Design and Build the New Crown While You Wait
When it comes to most dental offices, they only take the impression. They often don't design or fabricate the crown. They leave that to a dental lab. Because we can handle everything in the dental office, we'll design the crown right there on the computer and then send the design to a special milling station. The milling station is the key here. The milling station takes a solid chunk of ceramic material and forms it into your new crown.
Our crowns do not use any metal, but rather, it's a solid chunk of high-strength ceramic material. You can literally sit there and watch the crown being made. Immediately after the crown is made, we can place it in the mouth and make any necessary adjustments on the spot.
When you come to Gentle Family Dentists, you won't have to worry about temporary crowns, metal-based crowns, or waiting around for a crown. We can give you fast dental crowns that will improve your smile and oral health. Give us a call today at 563-288-2612 to book your first appointment.