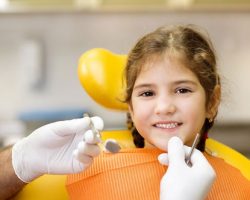 In a few days, Disney princesses and Marvel superheroes will be knocking on doors around the neighborhood  asking for candy. Halloween is a great time for adults and children to dress up, cut loose, and, of course, enjoy candy. No dentists wants to imagine their patients consuming a ton of candy, but it happens.
Our West Liberty IA dental office wants you to keep teeth safe this Halloween. Our office is a leader is pediatric dentistry and general family dentistry. You can give us a call today at 563-288-2612 to book your first visit. Today we want to share a few facts about Halloween and how we can keep teeth healthy this Oct. 31.
The Best and Worst Candy For Your Teeth
As we mentioned before, no dentist is thrilled about their patients consuming candy. Most candy is packed full of sugar. Dental plaque, which can form within just eight hours, and form with sugars to produce acid that can eat through enamel. This is why dentists often preach against sugar or soda consumption. Of course, we understand that Halloween is a time to enjoy some candy — though we hope you do it with moderation.
But when it comes to candy, here are a few things you need to know:
Watch out for gummies

— Most gummy candy is loaded with sugar and can get stuck on the teeth. The longer these sugary gummies stay on the teeth, the higher your risk of tooth decay.  

Steer clear of hard candies

— Hard candy is dangerous on your teeth in a similar way to gummy treats. The hard candy can get stuck on your teeth and sucking on hard candy for extended periods of time increases the risk of cavities.  

Sour candies are acidic

— Foods that are high in acid are dangerous to your teeth. Sour candies are often acidic, and many of those candies contain citric acid, another substance that increases the risk of tooth decay.  

Chocolate washes away quickly

— If you're going to pick one candy that is the safest, it would be chocolate. While chocolate can have a high sugar content — though dark chocolate is less sugary — it washes away quickly after it's consumed.   
Stay hydrated and brush and floss
If you find yourself — or your children — enjoying candy on Halloween, then you can do a few things to keep your teeth healthy. First, stay hydrated. Drinking plenty of water will wash out much of sugar or food debris in your mouth. Remember, the longer sugar stays on your teeth, the more likely it is to create tooth decay. Rinsing your mouth with water will help wash away that harmful sugar. The American Dental Association has found that chewing sugarless gum about 20 minutes after a meal reduces tooth decay.
Secondly, if you're consuming candy, brushing and flossing is a must! We recommend that you brush your teeth every day, twice a day, for at least two minutes at a time. It's important to brush for the full two minutes because you need to remove the all the food debris and plaque buildup on the teeth. When you're brushing — or having your children brush — focus on brushing longer instead of harder.
We hope that you enjoy a safe and fun-filled Halloween. If you follow these tips above, you'll be keeping your teeth safe this Halloween. If you're looking for a skilled dentist in West Liberty IA and Muscatine IA, call Gentle Family Dentists today at 563-288-2612!