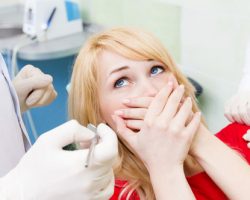 If you're one of the people who dread the thought of a dental appointment, you've got a lot of company. Far more than half of the people in the United States have some level of dental anxiety, ranging from uneasiness all the way up to full-blown panic attacks. That's a shame, because that anxiety keeps too many people from getting the care they need. Fortunately, Gentle Family Dentists in West Liberty, IA offers relaxation dentistry to make your next dental appointment a snap!
About Relaxation Dentistry
Just as dental anxiety exists on a scale, so does relaxation. In our West Liberty and Muscatine, IA practices, relaxation begins the moment you walk through the door. You'll discover a soothing, spa-like atmosphere and a host of comfort options to make your visit more relaxed and enjoyable:
Neck pillows and blankets for your comfort

Ceiling-mounted TVs and headphones that you can watch during your appointment

If you prefer, watch the monitors that show what our dentists see inside your mouth

A warm towel to refresh yourself following your appointment
For many people, those amenities are enough to help them relax. However, we completely understand if you need something more, and we're happy to offer two levels of "something more."
Laughing Gas
Laughing gas, or nitrous oxide, has been used in dentistry for more than a century. Laughing gas has a superb safety record and is even approved for use with children!
You breathe a mixture of the gas and air through a nasal mask. The level can be quickly and easily adjusted for your comfort. Almost immediately, you'll feel relaxed and unconcerned about what's going on around you. The effects of laughing gas go away almost as quickly as they take hold, so you'll be fine to drive yourself to and from your appointment.
Did we mention that laughing gas is free at our offices?
Oral Conscious Relaxation
People with greater levels of dental anxiety may need more than laughing gas, and for those patients we're happy to offer oral conscious relaxation.
With oral conscious relaxation, you take a prescribed pill prior to your appointment. Since driving while sedated is a horrible idea, be sure that you have someone to drive you to and from your appointment!
Oral conscious relaxation causes a much more profound sense of relaxation. You'll likely feel sleepy and disconnected from everything around you, but you'll still be able to respond to questions and to requests during your treatment. While not guaranteed, it's possible that you won't have many memories of what happened during your time with us.
Oral conscious relaxation also helps people tolerate longer and/or more involved dental procedures.
You CAN Get The Dental Care You Need
If you've been putting off the dental care you need, that can end today. We understand dental anxiety and our complete focus before, during, and after your visit is on your comfort.
Discover just how relaxed and pain-free a dental appointment can be. Call Gentle Family Dentists in West Liberty or Muscatine IA at 563-288-2612 to schedule your most relaxed and comfortable visit ever. Or give us a call just to ask questions about relaxation dentistry. We're happy to provide any information you need.