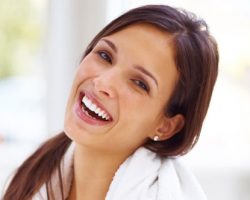 Crooked teeth can kill an otherwise great-looking smile. Alignment issues can make people self-conscious and actually put at us risk for dental health problems. At Gentle Family Dentists, we're using state-of-the-art orthodontic procedures to give our adult patients a straighter, more beautiful smile. You can visit either of our dental offices in West Liberty, IA and Muscatine, IA office to get the care you need.
There is an old assumption that orthodontic solutions are only for children. We dentists often prefer to provide orthodontic intervention at an early age, BUT almost anyone is a candidate for teeth-straightening. And now our procedures are faster and longer lasting than ever before. Dr. Moreno has been providing orthodontics for about 25 years, and she's stayed on the cutting edge of technology and treatments.
You can schedule your personal evaluation today by calling our office at 563-288-2612. Today we want to showcase two ways adults can straighten their teeth in our office.
A Better Smile in a Few Months
A common misconception about orthodontics is that it takes too long, and frankly, most adults don't want to deal with wearing braces at all. Traditional braces can take anywhere from two to three years to complete. That's because the braces will make drastic moves to your teeth and give you a better bite. But not all patients need comprehensive orthodontics. Some of us just have mild alignment issues. That's where Fastbraces can help. These braces aren't anything like traditional braces. They move teeth immediately and only take about 20 weeks!
Fastbraces uses special triangular brackets and a super-elastic wire that can make radical movements in the mouth. With Fastbraces, we only use super-elastic, so you'll never have to change out your wire. That means you'll have fewer visits and never have to worry about sensitivity from wire changes. Our patients are extremely impressed with the results and the quickness of the procedure.
Straighten Teeth Without The Hassle of Braces
Even though Fastbraces is an extremely quick treatment, some patients don't want to deal with braces in any form. That's OK. And that's why we're also offering Invisalign, a treatment that uses clear orthodontic aligners instead of metal braces. Invisalign is becoming extremely popular with our adults patients because the treatment is virtually invisible. Whenever you're wearing Invisalign, it's possible that no one will even know that you're having orthodontic treatment.
We you come to us for your Invisalign treatment, we'll take a scan of the mouth and then map out your entire treatment right there. Invisalign treatment can last anywhere from 9 to 18 months. It take about have the time of regular braces. A great perk of Invisalign is that the trays are removable. So you don't have to worry about cutting foods out of your diet — like you would with braces — and you can better clean your teeth. You just need to be certain that you wear your Invisalign aligners for 20 hours or longer every day to keep your treatment on track.
Come to Us For a Better Smile
Straightening your teeth doesn't have to be a long or painful process. You can get the smile you've always wanted within a few months. Gentle Family Dentists has many options to improve your smile. So give us a call today at 563-288-2612 and schedule your first visit.