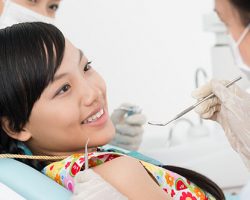 You can't anticipate every accident, but you should still do your best to avoid being caught unprepared. If you'd like some professional tips on what you should including in your dental emergency kit and how you should use each item, call Gentle Family Dentists at 563-288-2612 to book a consultation with us today.
If you're in need of emergency dentistry, visit us at our Muscatine, IA dentist office or our West Liberty, IA dentist office as soon as possible. We'll do our best to provide a same-day appointment. The sooner you see us, the better the chances are that we'll be able to repair your natural teeth.
If you have a dental injury that is causing you to bleed and you are unable to stop the bleeding, visit your local emergency room immediately. You can then follow-up with us to learn about your various restorative dentistry options if any are necessary.
For your convenience, we stay a little later on Wednesdays until 6:00 p.m. at our West Liberty, IA location and accept a variety of payment options.
Put Together A Handy Dental Emergency Kit
You probably have a first aid kit at your house, in your car, at work, or even all of these places. While some of the materials and instruments in a standard first aid kit may come in handy when you have a dental emergency of some kind, you should also invest in a kit that is specifically designed to help with problems related to your teeth and mouth.
You could buy a kit at your local drugstore or online, but you can assemble your own very easily as well. Here are just a few items you should have on hand to help in the case of dental troubles:
Gauze, for cleaning away any blood, applying medicine, and protecting the area from getting further damaged
Ice packs, to help numb the area and reduce swelling and inflammation
Saline solution, for rinsing your mouth (salt and warm water will also do just fine if you don't have any saline solution on hand)
Cotton swabs and/or cotton balls, so you can gently clean the area and apply medicines if necessary
Over-the-counter pain relievers, to help you deal with any pain that you may be experiencing
A dental mirror, so you can better examine the damage and decide what needs to be done
Nitrile gloves, so you can ensure your fingers are clean and sterile before you reach inside your mouth to apply medication or do anything else you need to do
A small, clean, and dry container made of glass or plastic that you can fill with saliva or milk to store tooth fragments until you can get to the dentist
Benzocaine, so you can numb the area of your mouth that is causing you pain
To help you feel more prepared for dental emergencies, we can provide professional advice during an appointment. Just let us know when you are scheduling and we'll accommodate you.
If you do visit us in need of emergency dentistry, we will first assess your particular situation. We'll discuss the problem with you and examine you thoroughly to ensure that we determine the best course of action for your issue.
Depending on your case, we can numb your mouth shortly after you arrive. This will address the initial pain and allow you to relax so we can get to work planning and performing your necessary treatments.
We have invested in some of the most cutting-edge dental technology on the market to make your procedures as precise and comfortable for you as possible. Some of the tools we use also allow us to treat you faster. For example, we can create a same-day dental crown or dental bridge in a single visit thanks to our in-house CEREC milling machine.
So you can relax when you visit, we offer several comfort options.Here are just a few of the amenities that we can offer you to help relieve dental anxiety:
Cozy blankets
Super soft neck pillows
Monitors so we can show you precisely what we're talking about
Headphones with relaxing music
Ceiling-mounted TVs to entertain and distract you while we work
Warm towels so you can clean up some after your treatments
Free nitrous oxide (more commonly referred to as "laughing gas")
Oral conscious relaxation treatment
Be ready for the unexpected when it comes to dental emergencies – book a visit at Gentle Family Dentists by calling 563-288-2612. You can also use our online form in non-emergencies.