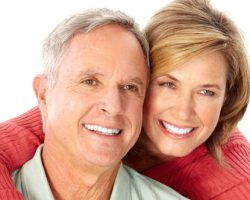 Some of us have spent decades — or perhaps a lifetime — dealing with bad teeth. Years ago, having weak or bad teeth generally put a person on the path to dentures, but that doesn't have to be the case anymore.
Our West Liberty, IA or Muscatine, IA dental offices can help you and your family keep your mouth beautiful and functional for the long haul. Gentle Family Dentists is an all-in-one dental practice that serves patients of all ages — and dental complications. Whether you're dealing with imperfections in your smile or need to restore teeth, we have options for you. Our dentists and staff have the latest training, and we're using only the most advanced technology to help our patients.
Today let's run through some of the things you can trust us to provide. Even if you think your smile is too far gone, there are options for you here, from cosmetic dentistry to replacing some or all of your teeth with dental implants.
Make Your Smile More Beautiful
Do you have nagging dental imperfections that you've dealt with forever? Gentle Family Dentists provides a number of cosmetic solutions so you can finally fix those issues. You can complete some procedures in one day, like teeth whitening or dental veneers.  
Teeth whitening can be completed in about an hour in our office or at home. Our teeth whitening solutions will improve the brightness of your smile by several shades.

Dental veneers are used to cover up smile flaws like chips, cracks, breaks or heavy stains. Our offices stand out as one of the few in the area that can place permanent veneers in a single visit.
Straighten Teeth With Clear Orthodontics
Millions of people are dealing with crooked teeth. It's a hassle and can be downright embarrassing. Additionally, alignment issues can increase your risk of problems like dental decay and gum disease.
The problem is that adults often refuse orthodontic treatment because they don't want to deal with the hassle braces — or simply think they are not candidates for treatment. You're never too old for orthodontic treatment, and now you don't have to worry about having brackets and wires fixed to the teeth. We're using new orthodontic methods known as ClearCorrect and Invisalign. Both of these solutions use clear orthodontic aligners to move the teeth into a better position. Patients love both of these options because the trays are removable and virtually invisible.
We're also using computerized imaging to plan out your entire treatment. In fact, we can show you the exact treatment timeline during your consultation!
Here are some other advantages of ClearCorrect and Invisalign:
The treatments take only 12 to 18 months

No fixed brackets or wires (And no metal whatsoever yo run against soft tissue in your mouth)

The teeth are easier to clean

The treatment is comfortable
Restoring Teeth or Replacing Missing Teeth
Our teeth are meant to last forever, but things happen. Our teeth fail or need restored because of dental decay or gum disease (which is the number one reason for tooth loss in adults) or even dental trauma. Our offices are using crowns to restore teeth and dental implants to replace missing teeth.
Our crown placement procedure is a little different than other dental practices. We can give you elite, durable crowns in just one day. You'll never have to wear a temporary! Using a technology known as CEREC, we can take an impression of the mouth, design the crown, and then fabricate the crown in about 90 minutes. Our same-day crowns save you time and hassle. Plus, we design the crown from a single chunk of ceramic material (there is no metal in our crowns) that perfectly matches your smile.   
If you have a missing tooth, we can also use the CEREC technology to provide a bridge. The dental bridge literally fills the gap created by the missing tooth and offers great function. The one issue with the dental bridge is that it requires us to shave down the adjacent teeth so we can fit the restoration.
Another way to replace missing teeth is with dental implants. Implants are new and revolutionizing the way we treat missing teeth. Using implants, we don't need to restore any nearby teeth. Additionally, we can restore implants with crowns, bridges, or full arches of dentures. People with total tooth loss often use removable dentures. Removable dentures are a problem because you cannot get the function you need. Dental implants can give you the function you lost with your teeth.
Dental implants are strong and durable and nearly as strong as your natural teeth. We can use dental implants to replace single missing teeth or even to stabilize dentures. Dental implants are so strong because they are made from titanium, a material that merges with bone. Once the implant is surgically placed into the bone, it literally becomes part of your body when it heals.
We're using special 3-D technology to find the most appropriate location for the implant, allowing us to place implants with a 98 percent success rate.
Almost anyone is a candidate for our dental implants. You need to be in good oral health and have enough bone to support the implants. If you have excessive bone loss (bone recession occurs when the teeth are lost), we can also offer mini dental implants. Mini dental implants function just like regular dental implants but they are simply smaller in diameter.
Visit Our Office for All of Your Needs
No one wants to experience dental problems or have less-than-ideal teeth. But less problems do happen, and you'll need a great dentist to help if these things happen. We'd love to site down with you and discuss your smile goals. Give us a call today at 563-288-2612 to book a visit with us.