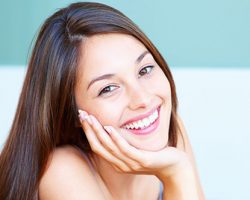 You might be one of those people who have tried hard to take care of your teeth, only to have things happen to your smile that leave you embarrassed to smile. Bad things do happen to good teeth, but you don't have to live any longer with a smile you don't like. A Smile Makeover from Dr. Carol Moreno at Gentle Family Dentists in West Liberty, IA is the solution to complex smile problems.
How A Smile Makeover Works
Many people take a "right now" approach to fixing their smile issues; they get a chip fixed, or their teeth whitened, or a metal filling replaced with a composite filling. Those things don't always happen with the same dentist, and the results of one procedure aren't always consistent with the results of previous procedures. That produces a smile that doesn't look natural or as nice as you might want.
A Smile Makeover is a comprehensive solution to getting the smile of your dreams. When you arrange a cosmetic dentistry appointment with Gentle Family Dentists, you and your dentist will discuss your smile goals in depth. Following a comprehensive examination, we'll create a completely personalized treatment plan that will address ALL of your smile issues while taking into account your financial means and your availability.
It's often possible to complete several minor cosmetic dentistry procedures at a single appointment which save you time and money!
Prior to beginning treatment, we'll provide a wax-up model of what your smile will look like. You and your dentist can make sure that the final result will be exactly what you want without having to redo any procedures.
How We Can Help Your Smile
The skilled and experienced dentists at Gentle Family Dentist in West Liberty, IA offer a wide array of cosmetic dentistry options.
Professional teeth whitening in our office or at home

Dental veneers to give you a dazzling smile that you'll love to show off!

Orthodontic treatment options to straighten gapped, crooked, or misaligned teeth

Tooth bonding to instantly correct small smile flaws

Gummy smile treatment correct the balance between teeth and gums

Tooth contouring to even out slightly irregular teeth

Snap-On Smile® for a beautiful, removable smile for special occasions or everyday wear

Same-day dental restorations created in our office
Don't Let Your Smile Hold You Back Any Longer
Cosmetic dentistry is for women and men who want the benefits that come with a great smile. In addition to increased self-esteem and self-confidence, studies show that people who smile freely and often are viewed as more attractive and trustworthy.
Having a beautiful smile is an asset to your personal life and to your career success. While no one can promise that a great smile will make the difference in finding your soul mate or not, or getting that promotion, there's no question that a beautiful smile will help.
Get started by scheduling a consultation with Gentle Family Dentists by calling our office at 563-288-2612. You can arrange to be seen in either our West Liberty, IA or Muscatine, IA office for your convenience.