Dr. Carol Moreno her son, Dr. Roberto Moreno, and Dr. Carolyn Duong work hard to provide the finest family dentistry care at our West Liberty, IA, North Liberty, IA, and Muscatine, IA offices. Our practice is named Gentle Family Dentists for many reasons, starting with Dr. Carol's, Dr. Carolyn Duong's, and Dr. Roberto's devotion to your loved ones' comfort.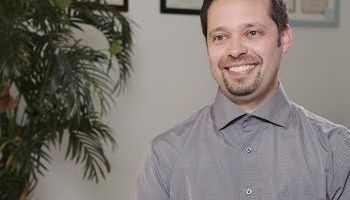 Dr. Roberto Talks About Family Dentistry
Read Transcript
Well, family dentistry is, I think, very important to me, personally. I work with my mom, so you have that aspect of family dentistry. Believe it or not, my sister is also a dentist. She doesn't work with us, unfortunately, but dentistry runs in our family, and having that family aspect, we know how important family is, so each patient that comes in, we want to make sure that we not only take care of them, but take care of their entire family.
The devotion and passion of Dr. Carol Moreno to reach out to communities and other families ultimately led to a Humanitarian Award from Academy of General Dentistry.  Together with her family, Dr. Moreno, and Dr. Carolyn Duong keeps on serving the community through various activities and one of these is partnering with families around West Liberty, IA, North Liberty, IA, or Muscatine, IA to achieve the best dental health.
It's common for both adults and children to be nervous or afraid to visit the dentist, but you'll actually enjoy your stay with us! Our doctors at Gentle Family Dentists and staff go above and beyond to ensure your family always feels relaxed and welcomed. A few ways we do that include:
Providing you with an easy, carefree first visit so you can tour our office, meet our friendly team, ask any questions you like, and even receive comfortable dental cleanings if you wish
Offering relaxation dentistry to soothe any dental anxiety you or a loved one may experience
Guiding you through our flexible payment options to best suit your family's budget
Call 563-288-2612 to book your family's appointments with Dr. Carol, Dr. Carolyn Duong, or Dr. Roberto today at our West Liberty, IA, North Liberty, IA, or Muscatine, IA offices. We know your family will always be happy to visit ours over the years!
Providing Comfortable And Effective Family Dentistry For All Ages
Gentle Family Dentists offer comprehensive dental services for your family under one roof so you don't have to pack up the kids and drive to different locations for treatments. We know how tough it is to take time off of school or work, so that's why we provide:
Same-day emergency dentistry if you're dealing with a dental injury or tooth pain
General dentistry for all, including dental cleanings, exams, fluoride varnish, custom athletic mouthguards, and more
Pediatric dentistry to ensure your little ones' teeth are staying healthy and developing as they should
Orthodontics for patients of all ages, including traditional brackets and practically invisible, fast-acting aligners such as ClearCorrect and Invisalign
Dental implants to replace missing teeth and other restorative dentistry options
Wisdom teeth removal and other gentle oral surgery services
Call 563-288-2612 today or fill out our easy online form to meet with your new dentists. We look forward to keeping every smile in your household as healthy and beautiful as it can be!