Sleep apnea is about more than loud snoring. If you are being woken up by your own snoring or being told by those in your house about it, you may be dealing with sleep apnea and should contact Gentle Family Dentists right away for a sleep apnea treatment. We have offices in West Liberty, IA, North Liberty, IA, and Muscatine, IA.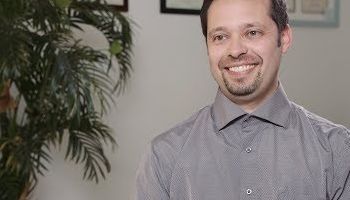 Dr. Moreno Discusses Treating Sleep Apnea at Gentle Family Dentists
Read Transcript
Sleep apnea I think is important in the overall health of the patient. If patients aren't getting very good sleep, then that can affect blood pressure, many, many aspects of their health. The appliances that we make in our office help with opening the airway so people that can't tolerate a CPAP, many times this is the next best option for them and it does make a really positive impact on their life.
Sleep apnea is a serious sleeping condition that prevents you from breathing as you should at night. Dr. Carol Moreno, Dr. Carolyn Duong, and Dr. Roberto Moreno, an alumna of University of Iowa College of Dentistry,  will help quickly, since sleep apnea treatment will:
Allow you to gain the peaceful night's sleep you need to function each day
Prevent the multiple ailments sleep apnea can cause
Ensure those in your house can get some rest as well
Call Gentle Family Dentists at 563-288-2612 to schedule a consultation with our West Liberty, IA, North Liberty, IA, or Muscatine, IA dentists. Dr. Carol, Dr. Carolyn Duong, or Dr. Roberto will prescribe a sleep study and a comfortable mouthguard to provide you with much-needed relief.
Determining If You Have Sleep Apnea And Solving The Problem
Sleep apnea is caused by a lack of oxygen you receive while sleeping. Soft tissue in the back of your throat can collapse while you're unconscious, resulting in difficulty breathing. The first step is to come speak with us regarding your symptoms. You may only be aware of your snoring, but sleep apnea also causes:
Exhaustion
Confusion
Headaches
Irritability
Sleep apnea has also been linked to heart problems, diabetes, and strokes, which is why it's so important for us to treat your symptoms ASAP. You'll first undergo a sleep study to determine what your sleep patterns are like. If it confirms you are suffering from mild or moderate sleep apnea, we'll create a customized mouthguard that will shift your jaw into the proper place so you can breathe easier at night.
Call Gentle Family Dentists at 563-288-2612 or contact us through our online form to book your visit at our West Liberty, IA, North Liberty, IA, or Muscatine, IA office or ask our friendly staff any questions before you come in. We're here to help you gain healthier and peaceful zzz's! Click here to hear from our patients.