At Gentle Family Dentists in West Liberty, IA, North Liberty, IA and Muscatine, IA , Dr. Carol Moreno, Dr. Carolyn Duong, and Dr. Roberto Moreno offer a wide variety of general dentistry services to make your life easier and your smile healthier.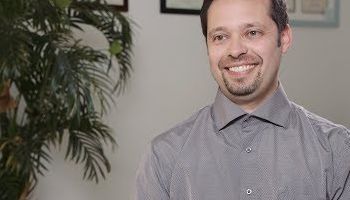 Dr. Robert Moreno Talks About General Dentistry
Read Transcript
Well, I think general dentistry is really important to have. Somewhere you can go that can take care of all your dental needs, or at least address all of them. Even if we can't perform every single one, we can at least diagnose well, and get you to the proper person that can. I think it's one of the hardest jobs you can have, because you have to know so many different things about different parts of general dentistry. I think it's really important to know that people have a good dental home here at General Family Dentists.
In our comfortable West Liberty, IA, North Liberty, IA, and Muscatine, IA dentist offices, you'll be treated by either Dr. Carol, a Master of the Academy of General Dentistry who has over 30 years of experience, her son, Dr. Roberto Moreno, a Fellow in the AGD who is working toward his mastership, or Dr. Carolyn Duong.
Call 563-288-2612 to schedule your quick and easy consultation with either of these caring pros. Both provide the most effective and stress-free treatments to benefit your smile.
General Dentistry: Preventing Big Issues With Gentle Care
We offer the following general dentistry services to correct and prevent dental issues:
DIAGNOdent cavity detection so we can catch tooth decay early and prevent it from causing extensive damage
Dental cleanings and exams to keep every tooth, as well as your gums, in excellent condition
Fluoride varnish to further protect you and your children from tooth decay (especially beneficial for young ones)
Nutritional counseling to ensure your family's optimal oral health
Customized athletic mouthguards to protect smiles of all ages during physical activity
Dry mouth treatments, which may include xylitol products to help relieve your symptoms
Bad breath treatment, including Tooth & Gums Tonic® and Oxyfresh® toothpastes and mouthwashes
Gum disease treatment, which can be performed non-surgically to provide excellent results and less recovery time
Your Comfort Matters Most At Gentle Family Dentists
If you should require a more involved procedure, such as gum disease treatment, our team in West Liberty, IA, North Liberty, IA, and Muscatine, IA will always make sure you feel no pain and are completely at ease during your procedure.
Even though we care for your smile in the most gentle possible manner, you may still feel nervous to receive treatment, which is why we offer relaxation dentistry. We provide:
Free laughing gas to quickly calm your nerves and allow you to go about your day afterward without feeling groggy
Oral conscious relaxation dentistry, a stronger but safe method taken in a pill form that ensures you feel no anxiety or stress during your procedure
Call 563-288-2612 for an appointment with Dr. Carol, Dr. Carolyn Duong, or Dr. Roberto today in our West Liberty, IA, North Liberty, IA, or Muscatine, IA office. You can also reach our office through our online form to schedule an appointment or ask our friendly staff any questions.