Missing teeth or damaged teeth can cause daily pain and make eating a chore instead of a joy. You may also be missing out on posing for pictures due to your widespread dental issues. That's why we offer full-mouth reconstruction at Gentle Family Dentists. Dr. Carol Moreno, her son, Dr. Roberto Moreno, an alumna of University of Iowa dental school, and Dr. Carolyn Duong provide restorative services at our West Liberty, IA, North Liberty, IA, and Muscatine, IA dentist offices that will: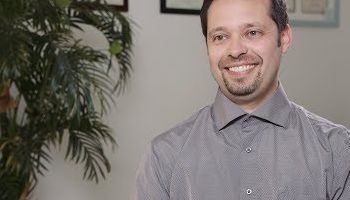 Dr. Moreno Explains the Need for Full-Mouth Reconstruction
Read Transcript
There are many patients that need full mouth reconstruction. Whether it's that they've ground down their teeth to that there's hardly any tooth left or if they just have many, many cavities that aren't able to restore with just fillings. We're seeing more and more of patients that need it because of the grinding. We do try to stop that before it gets to that point with occlusal guards and other appliances, but if it comes to that, we're able to restore them back to function and have them chew and smile like they always wanted to.
Relieve dental pain you may be feeling
Improve your confidence by receiving a beautiful new smile
Help you chew foods you love and aid your digestion
Enhance your oral and overall health
Call 563-288-2612 to schedule your consultation with Dr. Carol, Dr. Carolyn Duong, or Dr. Roberto today!
Making Sure Your Smile Is At Its Best With A Full-Mouth Reconstruction
Our offices in West Liberty, IA, North Liberty, IA, and Muscatine, IA work hard to ensure our full-mouth reconstruction options are as comfortable as possible. These options include:
Dental Implants
If you need to replace one tooth or all of your teeth, dental implants from Dr. Roberto Moreno will provide you with a beautiful and strong smile. Dental implants are replacement tooth roots, made of titanium, which Dr. Roberto places into your jawbone. Your implants naturally fuse to your jaw before replacement teeth are anchored to them. These replacement teeth look and act just like healthy teeth.
Dentures
Dentures also replace missing teeth and can be comfortably provided by Dr. Carol, Dr. Carolyn Duong, or Dr. Roberto. We even offer dentures that can be attached to your dental implants. Your dentures will improve not only your oral health but also your overall appearance.
Comforting You While Providing The Treatments You Need
At our relaxed West Liberty, IA, North Liberty, IA, and Muscatine, IA offices, we offer the following to help you feel fully soothed during your full-mouth reconstruction procedures:
Relaxation dentistry, including free laughing gas and stronger oral conscious relaxation treatment to ensure you feel no pain or stress
Ceiling TVs and headphones so you can kick back and relax while we care for your smile
Warm neck pillows and blankets
Monitors so you can see what Dr. Carol, Dr. Carolyn Duong, or Dr. Roberto sees while treating your smile, if you wish
Call 563-288-2612 or use our online form to schedule your consultation with us today. Your new favorite dentists are ready to provide your new smile! Click here to hear from our patients.