Call 563-288-2612 to visit Gentle Family Dentists today if you or a family member are having a dental emergency. Dr. Carol Moreno or Dr. Robert Moreno will see you the same day in our West Liberty, IA or Muscatine, IA office and provide instant pain relief. We also answer all calls on Saturdays.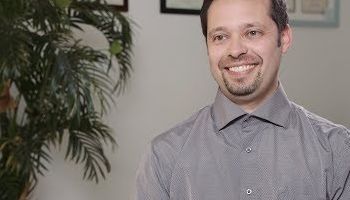 Dr. Moreno on the Importance of Dental Emergencies
Read Transcript
I think it's important to address these dental emergencies right away. If you have one, you can give us a call and we will see you that same day. Personally, I have experience with dental emergency. About 15 years ago, I was horsing around, I was very young, and this front tooth right here got knocked out of my head. I didn't know what to do. My dad picked it up, put it back in my mouth. I went to a dentist who was my mom. We were able to splint it into place, get a root canal, and I still have and I'm very grateful for that. I understand how important these dental emergencies are and I really want patients to feel that they can come to Gentle Family Dentists and we can take care of those needs.
Please don't be nervous to contact our West Liberty, IA or Muscatine, IA offices for dental care. Many people fear visiting the dentist, but Gentle Family Dentists will ensure your total comfort while taking excellent care of you or your family's smiles. Our dentists are experienced professionals to whom you can completely entrust your dental treatment. Dr. Carol Moreno and Dr. Roberto are both fellows in the Academy of General Dentistry, a notable organization of top-notch dentists.
We offer two forms of relaxation dentistry to help you feel completely at ease, including free laughing gas, which is safe for children.
Providing Advice And Instant Treatment For Your Dental Emergency
Handling A Tooth That Has Been Knocked Out
Gently handle the tooth by the top and try not to touch the roots. Rinse the tooth off using milk, then place it into a container with either milk or saliva to keep the tooth's roots healthy. This may allow Dr. Carol or Dr. Roberto to place the tooth back into its natural position.
You can attempt to put the tooth back in place temporarily, but do not try to force it back into your gums. If the tooth has been lost or is too damaged for us to reinsert it, our West Liberty, IA or Muscatine, IA  dental team will discuss restorative dentistry options with you to ensure your smile remains full and healthy.
Ending Your Severe Toothache
By receiving treatment from Dr. Carol or Dr. Roberto, you can live a happier life free of dental pain. If you're experiencing pain in your tooth due to damaged or infected pulp, we can quickly treat the tooth with a root canal and provide a same-day crown to restore it. If you're coping with serious tooth decay or gum disease, we will also treat it quickly to relieve your pain.
Call our West Liberty, IA or Muscatine, IA dentist office at 563-288-2612 today so we can quickly end your pain and make sure your smile properly recovers.