Working alongside his mother, Dr. Carol Moreno, Dr. Roberto Moreno is continuing his family's tradition of providing the most comfortable, high-quality dental care at Gentle Family Dentists.
Dr. Roberto Moreno was inspired by his mother to become a dentist. He graduated from the University of Iowa dental school in 2010 and joined our practice shortly afterward. He loves providing patients with new smiles, specifically with dental implants. The ability to design a patient's full, healthier smile from start to finish with the latest technology continues to fascinate Dr. Roberto.
What's equally important to him is every patient's comfort during their visit. He's happy only when his patients are happy, which is why he offers numbing gels to prevent any discomfort during treatments, warm neck pillows, ceiling TVs, and free laughing gas to ensure total relaxation.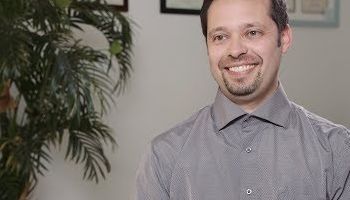 Read Transcript
My mom is my main inspiration for becoming a dentist. I work with her every day and I absolutely love it. When I was younger, I never thought I'd get into dentistry. But after working with my mom as a dental assistant in her practice, I thought it was something that I really could do, and I was really excited about that possibility. And then I went to University of Iowa for dental school. Me and Dr. Carol are big supporters of the Academy of General Dentistry that is advocating a lot for continuing education. Personally, have a Mastership in the Academy of General Dentistry.My mom has her Mastership and lifelong service awards. You receive these by completing many hours of continuing education in different aspects of dentistry.
We believe it's important to keep up on all advances in dentistry; a lot of things that we learned in dental school aren't really applicable. In order to give the best to our patients, we strive to keep up on continuing education. We do this by taking over 200 hours of continuing education every year. We believe it's really important. The most rewarding part for me is being able to contribute to somebody's oral health in a positive way, whether it's making sure that they are able to have a big confident smile, or being able to chew food that they couldn't chew before. Being able to impact the community in a positive way is something that I'm very passionate about.
In commitment to his patients, Dr. Roberto has received his mastership from the Academy of General Dentistry. Only 2% of Dentist go on to complete this additional training.
Dr. Roberto shares his mother's devotion for giving back to their community and has served as past president of the West Liberty Lions Club. When he's away from the office, he spends time with his other family members, including his wife, Adriana, their daughter, Elly, and their pug, Maya.
Dr. Roberto Moreno looks forward to taking great care of your family's smiles at our West Liberty, IA, Muscatine, IA, or North Liberty, IA dentist office.