Tooth fillings from Gentle Family Dentists in West Liberty, IA, North Liberty, IA, and Muscatine, IA protect your teeth and can also look completely natural in your smile. Dr. Carol Moreno, Dr. Carolyn Duong, and Dr. Roberto Moreno offer both traditional metal fillings and tooth-colored fillings, which will: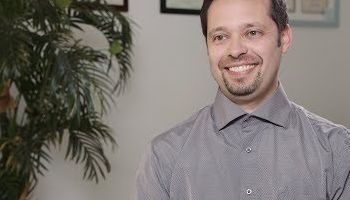 Dr. Moreno Talks About Tooth Fillings at Gentle Family Dentists
Read Transcript
We provide fillings in our office that don't have any metal in them. We use the white fillings. Our patients really appreciate not having the metal in their mouth and having something that looks realistic and tooth like and we're happy to provide that for them.
Fill in the space from a cavity once your tooth has been cleaned out
Prevent bacteria from harming the tooth
Rid you of any dental pain you've been experiencing due to tooth decay
Call 563-288-2612 to visit our West Liberty, IA, North Liberty, IA, and Muscatine, IA dental offices if you're experiencing dental discomfort. Your tooth filling will help you enjoy eating and smiling again soon!
Providing Long-Lasting Tooth Fillings To Benefit Your Family's Smiles
As devoted family dentists, Dr. Carol, a Humanitarian Awardee of Academy of General Dentistry,  Dr. Carolyn Duong, and Dr. Roberto understand how and why cavities happen for kiddos and even adults. Even if you insist on a healthy diet for everyone under your roof, cavities can still occur.
We'll determine if you require a filling by using DIAGNOdent cavity detection, which we offer during all routine cleanings and exams. If a filling will restore your smile, here's how we'll help:
We will gently remove any decay from your tooth.
We will place either a metal filling or tooth-colored filling, depending on your preferences, to protect your tooth from further damage.
Metal fillings still do an excellent job protecting your smile, but most patients naturally prefer our tooth-colored fillings.
Receiving Tooth Fillings In Total Comfort
We provide fillings quickly and comfortably at Gentle Family Dentists. However, if you suffer from dental anxiety, we offer relaxation dentistry so you can comfortably benefit from our treatments. Our options include:
Free laughing gas, to help soothe you yet allow you to go about your day shortly after your visit
Oral conscious relaxation, which is taken in pill form and puts you in a drowsier state so you feel no stress or anxiety at all (you will need someone to drive you to and from our office).
Call 563-288-2612 to make your appointment at our West Liberty, IA, North Liberty, IA, or Muscatine, IA dentist office today, or contact us through our online form to book your visit or ask questions. We'll make your smile healthier in practically no time!