Dental anxiety doesn't have to cause problems for your smile, as it does for so many people. Many people are so afraid to visit the dentist that they'll deal with dental pain or unnecessary treatments as a result of avoiding dental care.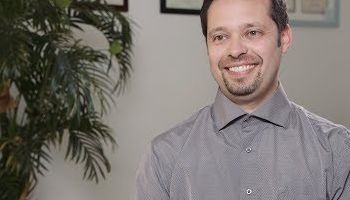 Dr. Roberto Discusses Relieving Dental Anxiety
Read Transcript
To me, being relaxation dentistry is having the patient feel so relaxed that many times they fall asleep. That is not uncommon here at our office, whether it's listening to the calming music that we have, whether it's the (inaudible) that can help them relax, or even Dr. Carol she does sing to her patients at times, and they find it very relaxing.
Dr. Carol Moreno her son, Dr. Roberto Moreno, and Dr. Carolyn Duong provide a relaxed environment at West Liberty, IA, North Liberty, IA, and Muscatine, IA where your family members of all ages will:
Feel welcomed and be treated just like a member of our own family
Receive excellent treatment based on YOUR needs and expectations
Feel no discomfort at all thanks to our gentle treatments and free laughing gas
There's simply nothing to fear at our West Liberty, IA, North Liberty, IA, or Muscatine, IA office. Call 563-288-2612 to speak with either Dr. Carol, Dr. Carolyn Duong, or Dr. Roberto and schedule a consultation. You can ask us any questions you wish, tour the office, and never feel any pressure at all. Your dental health is what's most important, so let's meet soon and make sure you're receiving the excellent treatment you deserve!
Dr. Carol, Dr. Carolyn Duong, and Dr. Roberto are both committed to provide excellent dental care. To keep themselves up-to-date with the latest knowledge, techniques and technology in Dentistry, they received fellowship in the Academy of General Dentistry.
Providing Comfort And Easy Dental Care For All Family Members
There are many reasons why people avoid the dentist. You may have dealt with a traumatic dental experience, or your kids may just be terrified of dental appointments. What matters most to Dr. Carol, Dr. Carolyn Duong, and Dr. Roberto is your comfort and the comfort of those who matter most to you. That's why we offer:
Gentle family dentistry to keep all of your smiles in excellent condition
The most patient-friendly dental technology to ensure your smiles are treated swiftly, efficiently, and with as little recovery time as possible if more involved treatment is required
Relaxation dentistry, which includes free laughing gas and oral conscious relaxation treatment, which is stronger but also completely soothes your nerves during any procedure
TVs, headphones, warm neck pillows, blankets, warm towels to freshen up with after your treatments, and more
Call 563-288-2612 to schedule an appointment with Dr. Carol, Dr. Carolyn Duong, or Dr. Roberto of Gentle Family Dentists today at one of our comfortable offices in West Liberty, IA, North Liberty, IA, and Muscatine, IA. We can also be reached through our online form if you wish to book your visit there or ask us any questions.