Although a root canal have a reputation for being uncomfortable, Gentle Family Dentists provides them to end your dental pain, not cause more of it. West Liberty, IA, North Liberty, IA, and Muscatine, IA dentists, Dr. Carol Moreno, her son, Dr. Roberto Moreno, and Dr. Carolyn Duong know how to provide this treatment in the most comfortable fashion to improve your oral health.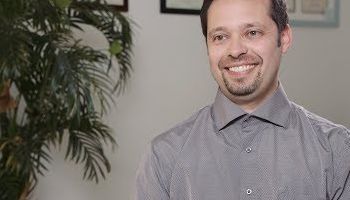 Dr. Moreno Talks About a Pain-Free Root Canal
Read Transcript
Well, for root canals the most important thing is making sure they don't feel anything, and we do that with many ways including (inaudible) that does have an anesthesia effect. We make sure that the area's very, very numb before we do anything. I love doing root canals because many people come in with a lot of pain and they're able to leave without any pain and keep their tooth after a root canal treatment. So, even though it sounds very scary, most people are very happy after the whole procedure's done, and I'm really happy that I'm able to do that for them.
Call 563-288-2612 to schedule an appointment with Gentle Family Dentists at our West Liberty, IA, North Liberty, IA, or Muscatine, IA office. We'll examine your smile and find out if a root canal will relieve your dental pain.
Our dentists are trusted professionals in the field of Dentistry. Dr. Carol Moreno has been president of the Academy of General Dentistry several times, while her son, Dr. Roberta also received a fellowship in the said organization.
Providing Pain-Free Root Canal Treatment
Dental anxiety affects many people, even to the point that they won't seek out a professional dental cleaning. That's why Dr. Carol Moreno, Dr. Carolyn Duong and Dr. Roberto hope you'll reach out to us with any questions you have concerning root canals, which are intimidating even to patients who don't mind visiting the dentist.
Here's how we ensure you feel no discomfort during your treatment:
A strong numbing gel is applied to your tooth so you feel no pain whatsoever
Relaxation dentistry is provided for you in one two forms, including:

Free laughing gas, which puts you in a completely calm state and further ensures you experience no discomfort
Oral conscious relaxation, which is stronger and allows you to remain awake but just on the brink of sleep
Our offices in West Liberty, IA, North Liberty, IA, and Muscatine, IA also have ceiling TVs in every operatory, and we can provide neck pillows and more to help make your visit as pleasant as possible.
Improving Your Oral Health And Daily Routine With Root Canals
If you're suffering from a persistent toothache, you're likely unable to enjoy your job, time spent with your family, or even relaxing with a favorite snack at the end of the day. A root canal can rid your dental pain by cleaning out the damaged pulp inside the tooth. Dr. Carol Moreno, Dr. Carolyn Duong, or Dr. Roberto will use the following techniques to get your life back on track:
Digital X-rays will be taken of your mouth to determine if a root canal is necessary.
The damaged pulp will be gently removed from your tooth, and the interior of your tooth will be completely cleaned.
A dental crown may be created during your visit and placed over your tooth to protect it from any further harm or bacteria.
Call 563-288-2612 or use our online form to schedule your appointment or ask any questions today. Our doctors in Gentle Family Dentists and friendly staff are ready to prevent dental pain from further disrupting your life.