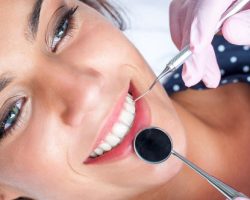 No matter who you are, you probably have some major event occurring for you or one of your loved ones in the not-too-distant future, whether it's a winter wedding, a graduation ceremony, or a great New Year's Eve party to ring in 2019. If you want to do something now to ensure the teeth that make up your smile are straight by then, call Gentle Family Dentists today at 563-288-2612 to book a consultation for short-term orthodontics.
For your convenience, we have two dental office locations, one in Muscatine, IA and one in West Liberty, IA. Regardless of which one you visit, you'll be able to choose from a few different orthodontics options if your teeth are generally healthy but crooked or misaligned. Thanks to our short-term teeth straightening options, it's not too late in the year to get the smile you want in time for your next major event!
We want to empower our patients to achieve the flawless smile they've been dreaming of since before they can remember. We can even combine orthodontics treatments with other cosmetic dentistry options so you can customize your own comprehensive smile makeover! We'll help you come up with a plan and schedule that suits you and also provide wax-up models of what your improved smile will look like so you'll know what you have to look forward to.
If a nine-to-five schedule doesn't fit your hectic life, you'll be happy to know that our Muscatine, IA dentist office opens at 8:00 a.m. every Monday, Tuesday, Thursday, and Friday. We also stay late until 6:00 p.m. on Wednesdays at our West Liberty, IA dentist office. Reach out to us and find an appointment time that is ideal for you.
Affording the treatments you want can be a little stressful sometimes, especially if you have dental insurance but it doesn't cover the cosmetic services you really want. To make things a little more financially convenient for you, we accept a large variety of payment options, including third-party financing through Compassionate Finance and CareCredit.
Why Adults Prefer Short-Term Orthodontics
We proudly offer traditional braces because they do a fantastic job of addressing crooked teeth and a variety of misalignment issues.
But a lot of patients, especially adult patients, are very apprehensive about getting braces because they're afraid having metal wires and brackets on their teeth will compromise something about how people see them. For example, some people fear that getting braces will:
Harm their professional credibility

Make them look like a pre-teen

Hurt their dating life or even make them less attractive to their partner

Make them feel self-conscious about smiling for the camera when it's time to say "cheese"

Replace one thing that makes them feel self-conscious about their smile with another thing
But cosmetic concerns about appearance are far from the only reason adult patients are often reticent to get traditional braces. Many are also worried they'll have to miss work or use personal days or paid-time-off days in order to keep all of their maintenance appointments to tighten wires on their braces and make other adjustments.
Braces can also take a bit of a toll on your dietary freedom. Many foods could damage your braces or get stuck in your wires and brackets, making a big, difficult-to-address mess.
Oral hygiene is also affected by braces because you'll need to carefully clean around the brackets and wires to keep your teeth and gums clean.
Explore Your Alternatives To Standard Metal Braces
For patients that don't want to deal with the cons of traditional braces for many months or even a couple years, we offer short-term teeth straightening options. To help you make the decision that is best for your particular case, as well as your lifestyle goals, we will discuss the options with you in detail and answer any questions that you may have.
If you'd like to make your teeth straight more quickly than you could with traditional braces, here are some basics on the options we provide:
Invisalign: this method uses a series of nearly invisible, custom-made, removable aligners to gradually straighten your teeth

ClearCorrect: like Invisalign, ClearCorrect uses discreet, clear plastic aligners to straighten your teeth very quickly and comfortably

FastBraces®: these braces do use metal brackets and wires like traditional braces, but they are specially shaped and work much more quickly, allowing many patients with minor alignment issues to get straight teeth in as few as three months
On top of working more quickly than traditional braces and – in the case of Invisalign and ClearCorrect – being far less noticeable, our short-term teeth straightening options also offer other perks that patients love.
Many people love that our aligners are made from smooth plastic, for example. Without all that metal in your mouth, the inside of your mouth will be less prone to injury and you won't have to worry about accidentally bumping the inside of your cheek against a harsh edge.
Our short-term options also save you time in ways that may not be immediately obvious. You won't have to visit the dentist nearly as often during your treatment and the treatment itself will not take as long so you'll spend less time at our dental offices.
People we treat with short-term options for straightening teeth also love that there's less of a chance of some sort of oral health issue arising in the course of their treatment. A lot of people end up with a cavity or some kind of discoloration in their smile when they use braces and the issue may not even be known until the braces are removed. That won't be as likely with short-term options because bacteria will have less time to hide and grow!
Start Your Short-Terms Orthodontics Treatment Today!
Let our team at Gentle Family Dentists start you on your journey toward a straight, beautiful smile today by beginning your short-term orthodontics treatment! Call us at 563-288-2612 or use our online form to request an appointment in our Muscatine or West Liberty, IA dental office. You can also visit us in person when we're open for business if you'd prefer.