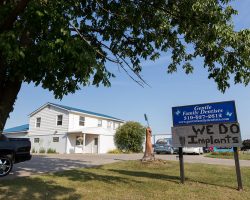 Gentle Family Dentists is a comfortable place for comprehensive dentistry solutions. As our name implies, we are here to serve all the members of your family, regardless of age or dental situation. So, whether you're dealing with minor smile imperfections or you need to some major restorative work, we'll have you covered at both of our convenient locations. Today we'd like to tell you a little more about the breadth of our services. Keep reading, and then call us at 563-288-2612 to request your next appointment in Muscatine or West Liberty, IA. You'll be so glad you did.
A Beautiful Smile Is Waiting
Do you have any annoying issues (i.e. dental imperfections) that you've put up with for far too long? Well, now is the acceptable time to do something about them once and for all. Gentle Family Dentists provides an array of cosmetic dentistry solutions every day to patients just like you. You can complete some procedures in just one day, such as professional teeth whitening or dental veneers.  
That's right, a teeth whitening treatment can actually be completed in about an hour in our office or you can do it at home around your own schedule. The best part is that our teeth whitening solutions will improve the brightness of your smile by several shades and they won't damage your gums like the poorly fitting trays you can buy at the store.
In case you didn't know, dental veneers are cleverly used to cover up smile problems like chips, cracks, breaks or deep discoloration. Our office is one of the few in the area that can place permanent veneers in a single visit. How nice is that? You can solve several unseemly issues all at once!
You Can Fix Crooked Teeth Without Metal
Patients everywhere are dealing with crooked teeth. And it doesn't matter how old you are, it's always a hassle and can be positively embarrassing. Did you know that alignment issues can also increase your risk for cavities and gum disease (which often leads to tooth loss).
Most patients past a certain age refuse to go through an orthodontic treatment because they don't want to deal with classic metal braces or they think they are too old to treat the problem at hand. We are here to tell you that you're never too old for orthodontic treatment, and now you don't have to worry about having metal brackets and wires attached to your teeth.
These days we're using clear plastic aligners like ClearCorrect and Invisalign to get the job done. Both of these solutions use a series of aligners to move the teeth into a better position. The aligners are removable and nearly invisible. And the treatments take only 12 to 18 months to wrap up, which is half the time braces would require.
Tooth Loss Restorations Are Easier Than Ever
In earlier eras of dentistry your options for restoring your smile after an episode of tooth loss were pretty limited. Thankfully times have changed and we now offer dental implants. These are strong and durable replacements and they are almost as strong as your natural teeth. We can use dental implants to replace single missing teeth a whole arch of teeth or even to stabilize dentures. We'll tell you all about the modern options that exist for you when you come in for your consultation.
Make Plans To Visit Our Office
Ready to take the next step toward a healthier, better-looking smile? Call Gentle Family Dentists at 563-288-2612 or use our online form to request an appointment in our Muscatine or West Liberty, IA dental office. Comprehensive dentistry solutions are here for you.