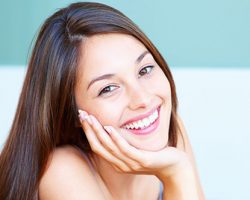 Do you have any dental goals for 2019? Whether you're looking to change the appearance of one tooth or all of them, the team here at Gentle Family Dentists can make your dreams a reality.
All you have to do to get started on your journey is call 563-288-2612 to request a smile makeover consultation in our West Liberty or Muscatine, IA dentist offices. When you get here we'll help you choose a cosmetic dentistry treatment (or combination of treatments) that works best for your current predicament and end goals. Until then, keep reading for a few ideas.
Dental Veneers
Dental veneers are designed to hide teeth that are broken, cracked, weirdly shaped, uneven, or discolored. This is a great way to cover up more than one kind of damage all at the same time. In most cases the total transformation of your smile can happen over the course of only one office visit.
After digital X-rays and impressions are made, we may need to remove a bit of enamel from the front of your natural teeth so that your new veneers appear as lifelike as possible. This will be done gently and may not even require relaxation dentistry, though it can be made available for you if that is your preference.
Then our CEREC milling machine will be fired up to create your dental veneers while you wait in one of our comfortable chairs. We'll bond the veneers to the front of your teeth, and you'll be good to go with a completely refurbished smile.
Orthodontic Aligners
Here's some good news: you no longer have to wear braces for 2-3 years to transform crooked, crowded, or gapped teeth into a beautiful smile. In fact, we can set you up with an Invisalign short-term orthodontic treatment.
For this we will use digital scanning technology to create a treatment plan with 3D software. A special lab that we partner with will manufacture your unique series of Invisalign aligner trays that corresponds to our plan.
Don't worry, these are clear, comfortable, and removable. As such, no one will see them and they won't disrupt your lifestyle. You just need to switch them out every two weeks (after wearing them for most of each day along the way) for the next set in your series. After about 12 months, you should have breathtaking results.
Professional Teeth Whitening
At Gentle Family Dentists, we do have an in-office professional teeth whitening treatment that will deliver impressive results while you wait. But we also offer the NiteWhite at-home whitening kit so that you can get your teeth whitening treatments in the convenience of your own home and around your busy schedule.
For the take-home plan, you simply wear the trays (that we custom-design to fit your unique mouth) in the evening, once you've settled in for the night. This system features a professional-grade whitening gel, so you won't be disappointed. You only need to use the treatment for a couple of weeks until you achieve the smile shade you're looking for. With us directing the process, you can trust that it will be safe and effective.
It's Never Too Soon To Take Action
You know better than we do what all those dental flaws, stains, and other smile imperfections are doing to your self-confidence level and overall sense of well being. But we know better than you how easy and accessible our smile makeover treatments can be. These three are just the beginning of the options you'll have available to you when you request your cosmetic consultation at Gentle Family Dentists of West Liberty & Muscatine, IA. Call us today at 563-288-2612.