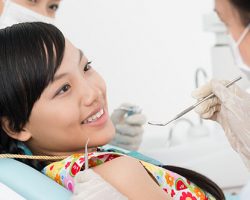 If you're caught completely unprepared in the face of a dental injury, it can be pretty overwhelming and even make you feel like panicking a little bit. For some professional advice on how to handle the dental emergency of a knocked out tooth, call Gentle Family Dentists at 563-288-2612 to speak with our caring and knowledgeable team members.
To make the trip a little bit shorter for you when you need emergency dentistry services, you can pick between whichever of our two dental offices is closer to you, the one in Muscatine, IA or the one in West Liberty, IA. Regardless of which one you visit, we will do our best to provide a same-day appointment so you can get out of pain fast and address your situation.
Losing just one individual tooth may not sound like that big of a deal when you think about it, but it can actually have a major impact on you. Over time, your surrounding teeth can drift out of place. You can also put undue stress on your remaining teeth and put them at risk of damage. But along with maintaining the health of your other teeth, saving a knocked out tooth could also:
Save you time and money in the long run since you won't have to get a tooth replacement of some sort

Help you maintain your strong bite so you can thoroughly chew your food and improve your digestion and overall health

Prevent you from feeling self-conscious about a smile gap left by your missing tooth
We know that even in an emergency situation you may be concerned about finances. To help you get the care you need when you need it instead of waiting due to financial troubles, we accept a variety of payment options. You can even take advantage of third-party financing from CareCredit or Compassionate Finance.
Follow These Dental Emergency Steps For A Knocked Out Tooth
Maybe you or one of your children frequently participate in sports or physical activities where dental injuries are common and you occasionally forget to wear your athletic mouthguard. Or perhaps you just had a freak accident and slipped on a wet spot in the kitchen or tripped over the family dog. Some patients that have a tooth that's already loose may even pull it out accidentally when chewing on something like caramel.
No matter how your tooth came out, we will do everything we can to get it back in place so you won't lose it. For the best chances of having your tooth nestled back where it should be, do your best to visit us within thirty minutes of the tooth getting knocked out. We may be able to save it past this point, but the odds will be against us.
If your dental injury is causing bleeding, you should stop the flow as quickly as possible. Depending on your situation, you may not be able to stop the bleeding, in which case, you should visit your local emergency room immediately. We'd be happy to repair your smile with a restorative dentistry treatment whenever your mouth is no longer bleeding.
When you've knocked out a tooth, pick it up by the crown of the tooth (the part that appears above the gumline that you chew with). Do NOT handle a tooth by the roots because you could accidentally make them dirty and decrease the likelihood we'll be able to put it back in. If you have nitrile gloves, put them on before picking it up. If you can, wash your hands before handling the tooth.
To rinse away any blood or dirt particles in your mouth, gently swish some saline solution in your mouth. If you don't have any saline solution, you can make some with warm water and salt.
If the tooth has any dirt on it, rinse it off gently. Then, if you are able to, put the tooth back into its socket. Don't force the tooth into place. Only put it back in place if you can with relative ease.
If you cannot put the tooth back in its socket, put it in a small, sealable, clean container and fill the container with saliva or milk. This will help keep the tooth moist and clean until you are able to visit Gentle Family Dentists for assistance, improving the chance we'll be able to save the tooth.
Take an over-the-counter pain reliever if you are experiencing discomfort after you've knocked out your tooth. Ones with anti-inflammatories in them may help to prevent swelling or at least keep it to a minimum so you'll be able to heal more quickly.
You can also reduce swelling and help numb your face and mouth by applying an ice pack to the affected area. If you don't have a reusable ice pack or one of the single-use ones that you activate by squeezing it or popping something inside of the packaging, you can fill a plastic bag with ice cubes and wrap it in a clean cloth for an on-the-go ice pack.
You may also be able to numb some of the pain or discomfort by applying a small amount of benzocaine (brand name Orajel). Be sure to follow the directions on the packaging to avoid any complications.
When you arrive at Gentle Family Dentists, we will do everything we can to get you out of pain quickly. In some cases, we may be able to numb your mouth with an anesthetic shortly after you get to our office. We'll work quickly to address your situation and get your tooth back in place if we are able to.
To improve your comfort when you are visiting us, we will offer you various amenities. If any of the following would help calm your nerves, just let us know:
TVs and headphones to entertain and distract you while we fix your smile

Cozy neck pillows

Soft blankets

Warm towels to freshen up with at the end of your visit
We also offer some relaxation dentistry options to help relieve your dental anxiety. We can even provide gas sedation (also known as "laughing gas") totally free of charge if you like!
Let us save your knocked out tooth and help with any other dental emergency you may be facing. Call Gentle Family Dentists at 563-288-2612 right away for emergency dentistry. You can also use our online form to book in non-emergency situations.