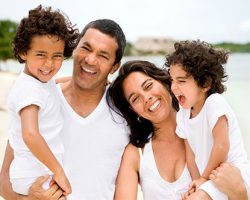 Wouldn't it be nice to find one dentist in West Liberty or Muscatine Iowa who can handle all of your family's dental needs? Well, your wait for a great family dentist might be over. The professionals at Gentle Family Dentists are here to treat your entire family. We're treating everyone from toddlers to seniors, so we are trained in about every dental procedure you or your family would ever need.
Family is in our practice name, and it all starts with our expert mother-son dental team, Dr. Carol Moreno, Dr. Roberto Moreno. Combined they have decades of experience and helping countless patients in the community. Today we want to show you exactly what our family dentistry looks like and how we can treat patients at every stage — or dental complication — in their lives.
Starting Your Child's Oral Health Off Right
We believe in developing great dental habits early. So we recommend that parents bring their children to our dental office at the age of 1 for their first dental exam. During that exam, we'll "count the teeth" and review the jawbone development. We'll also give the parents some pointers on how to properly brush their child's teeth. These first dental visit are half about treatment and half about getting your child comfortable with the dental office.
As your child gets older, we'll start with dental cleanings and exams and even preventive treatments to help them keep their teeth healthy. That includes:
Dental education

— They need to know when to brush, where to brush, how to brush, and how long to brush.

Nutritional counseling

— Teaching them what to eat and what can damage their teeth and gums.

Fluoride treatments

— Fluoride reduces the risk of cavities and can even restore enamel.

Cavity detection

— We're using laser technology to detect the slightest signs of decay that this invisible to the naked eye. This helps use address the problem right away before it balloons into a bigger issue.

Customer mouthguards

to protect your child's teeth and mouth during sports!
Dental Care for Adults
As we get older, our dental needs change. We may not need a lot of dental intervention, or we may need a great deal of help to get our smile back on track. Two things adults often need are restorative dentistry to repair damaged teeth or cosmetic dentistry to touch up their smile. When it comes to restoring your smile, we'll only use the most advanced, subtle and long-lasting materials.
We offer tooth-colored fillings, and we can place a dental crown in about 90 minutes! Few dental offices can offer same-day crowns, but we've couldn't pass up the benefit to our patients. The same-day crown eliminates the need for goopy impression (we use digital impressions), ill-fitting temporary crowns, and, of course, a second dental visit.
One of the best ways to improve your smile is with cosmetic dentistry. We have many options, whether you need to straighten your teeth or cover up smile flaws. We're using the revolutionary treatments Invisalign and ClearCorrect that use clear aligners to move your teeth into a more appropriate position. We also have Fastbraces, a system that can straighten teeth in about 120 days or just three to four months!
We can cover up smile flaws using whitening, veneers, and Snap On Smile (which does not require use to remove any enamel on the teeth). We can whiten your teeth in about an hour in our office, or we'll craft a custom mouthpiece and prescribe whitening gel, so you can whiten your teeth at home!
Dentistry for Seniors
Seniors or older adults have a host of different dental concerns to worry about. Seniors face a higher risk of gum disease, the leading cause of tooth loss. Some seniors have spent years dealing with missing teeth. And some seniors struggle mightily with sleep apnea. You can find solutions for all of these problems when you visit Gentle Family Dentistry. All three of these issues can grealy deplete your overall health, and sleep apnea can be deadly, so please don't brush off your problems.
Let's take a quick look at how we treat these issues.
Treating Gum Disease — Gum disease is a serious problem that also increases your risk of overall health problems like heart disease and diabetes. The infection also can cause the gums and bone to deteriorate. We are using a special laser to treat gum infections and even reshape the gums. The laser decreases sensitivity and is much less invasive than using a traditional methods like a scalpel and sutures.
Replace Missing Teeth — We can replace missing teeth with dentures that are lifelike and functional. But the best way to replace teeth now is with dental implants. Our implants can be placed anywhere in the mouth to retain single crowns, bridges, or dentures. Implants are nearly as strong as natural teeth and secure your replacement teeth, so you can eat whatever you want again and will never have to worry about your teeth popping out.  
Resolving Sleep Apnea — Snoring and waking up gasping for air are two serious signs of sleep apnea, and sleep apnea can increase your blood pressure. This can elevate your risk for problems like heart disease or stroke. It's also possible to die from sleep apnea complications. Instead of a CPAP machine, we can now treat some forms of sleep apnea with a comfortable oral appliance. The oral appliance pushes the lower jaw forward to keep your airways open during sleep.
Let Our Offices Help Your Family
At Gentle Family Dentists, we are focused on convenience and comfortable. As you can see, we offer treatments in all facets of dentistry, and we can treat every member of your family. We'd love to sit down and chat with you and your loved ones a little more. You can reach our offices by calling us at 563-288-2612 or using the online form to book an appointment.