Sitting to eat with friends and family is supposed to be relaxing. If you're experiencing difficulty chewing foods you love or foods that are good for you, Dr. Carol Moreno, Dr. Roberto Moreno, and Dr. Carolyn Duong of Gentle Family Dentists are here to solve the problem. Restorative dental treatments at our West Liberty, IA, North Liberty, IA, or Muscatine, IA dentist offices will: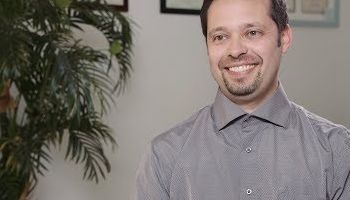 Dr. Moreno Talks About Treatment to Patients with Chewing Difficulty
Read Transcript
If a patient tells me that they're having a hard time chewing, I'm going to look at whatever is causing that problem for them, make sure that we diagnose correctly, and do the proper treatment. Luckily, we have digital x-rays, so we're able to get the x-rays instantly, and I can diagnose any problems that they may have.
Prevent any discomfort you feel while biting or chewing
Help your digestion by ensuring you can properly chew all foods
Improve your appearance and health if your issues are being caused by damaged or missing teeth
Call our dental offices at West Liberty, IA, North Liberty, IA, or Muscatine, IA at 563-288-2612 to schedule a consultation with Gentle Family Dentists today. Our top-notch dentists, Dr. Carol Moreno, co-founder of West Liberty Youth Dream Catchers, Dr. Roberto Moreno, or Dr. Carolyn Duong can help you enjoy your well-loved food with restorative dental treatment without having the difficulty of chewing.
Restorative Dentistry Ensures Your Comfort At Mealtime
Gentle Family Dentists helps you comfortably chew your food by offering the following restorative dental treatments:
Dental Implants
Dental implants are an excellent, long-lasting solution if you're missing teeth or need to have any removed. Implants are replacement tooth roots that allow beautiful and strong replacement teeth to be added to your smile. With implants, you can confidently chew any foods, as they provide nearly 100 percent of the strength of a naturally healthy smile.
Dental Crowns
If you're having trouble chewing due to a damaged or painful tooth, we will assess whether you're dealing with a cavity or require a root canal. We'll provide the most comfortable treatment to repair your tooth, then place a tooth filling or dental crown to prevent any further discomfort or damage.
Providing The Most Relaxing, Pain-Free Treatments
Dr. Carol, Dr. Roberto, and Dr. Carolyn will always make sure you feel no pain during our restorative dental treatments. We'll numb any areas of your mouth that need to be treated, as well as provide relaxation dentistry to calm your nerves if you're anxious.
We offer:
Free laughing gas, which provides swift relaxation and is perfectly safe for younger patients
Oral conscious relaxation treatment, which allows you to remain awake during your procedure but feel totally at ease
Call 563-288-2612 or use our online form to schedule a consultation with Dr. Carol, Dr. Carolyn Duong, or Dr. Roberto Moreno in our West Liberty, IA, North Liberty, IA, or Muscatine, IA dental offices. They are ready to help you get back to loving every meal or snack!