Call Gentle Family Dentists in West Liberty, IA, North Liberty, IA and Muscatine, IA at 563-288-2612 so we can treat your smile ASAP if you're dealing with a dental emergency or dental pain. Dr. Carol Moreno,  Dr. Roberto Moreno, Dr. Carolyn Duong, and our staff are all prepared to provide you and your family with swift relief. We even answer calls on Saturdays.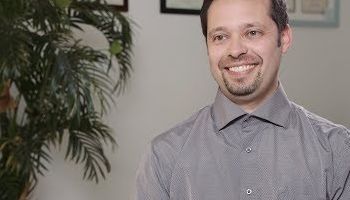 Dr. Moreno Talks About Treating Dental Pain
Read Transcript
If a patient tells me that they're in pain or having discomfort, I definitely want to address that problem as soon as possible. I've had a toothache personally, and I know how uncomfortable it can be and how bad it can really get. Whether it's taking care of it immediately with treatment or having some medications to help, the most important thing is getting them out of pain as soon as possible and making sure they're comfortable.
Dental pain can be caused by many serious issues that shouldn't be ignored. At our West Liberty, IA, North Liberty, IA and Muscatine, IA dentist offices, we will:
Relieve any pain or discomfort you're feeling right away
Provide comfortable and long-lasting treatments to benefit your smile and oral health
Prevent you from dealing with a dental problem that could become more severe (and costly) over time
Help eliminate the need for daily over-the-counter pain medications used for oral pain
Your Comfort Always Comes First
We understand why many people fear receiving treatment, especially when dealing with extraordinary dental pain. The dentists and staff here at Gentle Family Dentists not only relieve your dental anxiety through care and compassion, but we also provide relaxation dentistry options, including:
Free laughing gas to quickly calm the nerves of you or your children (this is perfectly safe for kids).
Oral conscious medication, which is stronger but also allows you to stay awake and communicate with Dr. Carol, Dr. Roberto and Dr. Carolyn.
Providing Lasting Solutions To End Your Dental Pain
You could be dealing with dental pain for a number of reasons, the most common of which are:
Toothaches
If you're suffering from a severe toothache, you may need a root canal. This procedure seems intimidating, but it rids your tooth of damaged pulp, which causes persistent pain. If your toothache is caused by other dental issues, Dr. Carol, Dr. Carolyn, and Dr. Roberto will provide other restorative treatments to keep your smile pain-free.
Knocked-Out Teeth Or Oral Pain Due To Injury
Any teeth damaged from physical trauma should be addressed by us as soon as possible. If a tooth has been knocked out, Dr. Carol, Dr. Carolyn and Dr. Roberto, masters in the Academy of General Dentistry, may be able to place it back in your mouth. Put the tooth in a container of milk or saliva to keep the tooth's roots alive, and bring it to our office.
If a tooth has been cracked or broken due to an accident, we also want to see you right away. Leaving a damaged tooth in your smile only leads to more expensive and extensive treatments.
Call Gentle Family Dentists at 563-288-2612 so we can save your smile and end your pain at our West Liberty, North Liberty, or Muscatine, IA dentist offices today.